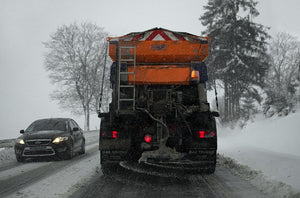 Why Salt Ruins Your Car And What You Should Do To Prevent It
   With the winter weather here, we know the importance of salt to keep our roadways safe.  However, salt can cause major damage to your vehicle's body and undercarriage. Rust forms when moisture and oxygen combine on metal, salt accelerates that process because it corrodes.
     One way to prevent road salt damage is to get the salt off your vehicle as soon as possible.  Just washing your car isn't enough.  The DMV suggests a car wash that not only washes your vehicle but also provides an undercarriage clean. The parts of your vehicle at most risk include your exhaust system, muffler, coil springs, sub-frame and hydraulic brake system. 
   Zappy's Auto Washes provides an undercarriage rinse at all of our locations.  With nine conveniently located in Northeast Ohio preventing road salt damage to your vehicle has never been easier.   
 Click on the image above to view our Zappy's Auto Washes official merchandise.
---