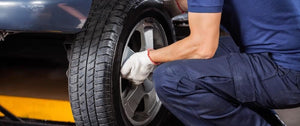 When did you last rotate your tires?
It's no secret that to ensure that your daily driver lives long and prosper, there are many annual maintenance and preventative car care steps that each and everyone of us should be taking. The most common one? An oil change. The most overlooked one? A tire rotation. 
Why is a tire rotation important, you may ask? Our friends over at SimpleTire.com explain why stopping in for that regular tire rotation should be on the top of your list. "It's simple. Front and rear tires wear differently. Parallel parking, cornering, acceleration, three-point turns all put different stresses on the front and rear tires. Not rotating them means that they are going to show different wear patterns, which will affect their tread life and your car's ride and handling." -SimpleTire.com
There are different types and techniques depending on the style and type of car you happen to drive. There's a lot of factors and questions that need to be taken into consideration when determining what type is right for you. This is all dependent on the type of vehicle, whether or not it happens to be front, rear, all, or four-wheel drive. 
All in all, we hope that we have reminded you and shared a few good reasons as to why you should make sure you rotate your tires the next time you change your oil or take it to someone to do it for you.
---