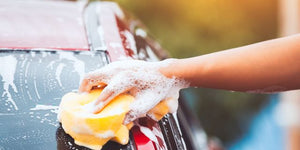 The Ultimate Guide to Choosing The Right Soap For Your Car Wash
Cars are more than just a mode of transportation; for many, they're treasures that need proper care and maintenance. One crucial aspect of car maintenance is regular washing, which involves picking the right soap. Every car enthusiast should know that not all soaps are created equal when it comes to car washing. This article will guide you on what type of soap is best to use when cleaning your car.
The Perils of the Wrong Soap
Before we dive into the details, it's essential to understand why choosing the proper soap matters. Using dish soap, laundry detergent, or any other household soap on your car might strip the car's protective wax coating. These types of soap can damage the car's paint and promote the formation of rust spots over time.
pH-Balanced Car Wash Soaps
pH-balanced car wash soaps are the gold standard when it comes to car cleaning products. These soaps are formulated to work effectively without damaging your car's finish or stripping away the underlying wax protection.
Non-Detergent Car Wash Soaps
Non-detergent car wash soaps are another excellent option. These are usually biodegradable and environmentally friendly. They are gentle on your car's surface, ensuring that the color and gloss of your car's paint job are not compromised.
Concentrated Car Wash Soaps
These soaps allow you to adjust the soap-water ratio as per your cleaning needs. They are cost-effective as a small amount goes a long way.
Soap with Added Wax
Some soaps include wax that can replenish your car's protective layer as you wash it. These types of car wash soap can give your car a clean, shiny finish.
What to Keep in Mind When Choosing Car Wash Soap
1. Safety for the Car's Surface: Ensure the soap is safe and won't damage the car's paint, clear coat, or wax layer.
2. Environmental Safety: Biodegradable and non-toxic soaps are safe for the environment which should also be considered.
3. Price: The cost should be reasonable for you and justified by the quality and volume of soap you get.
Conclusion
Your car deserves the best care and maintenance, and this includes choosing the right soap for cleaning. Considering the safety of your car's surface, environmental impact, and cost can help you make the right decision. Remember, a clean, well-maintained car not only looks fantastic but it also tends to have a higher resale value.
Whether it's a quick clean-up or a detailed wash, the right soap can make all the difference. Choose wisely, and your car will thank you with a glossy shine and flawless finish.
---