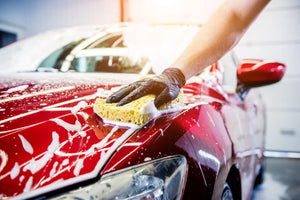 The Difference Between Car Wash and Car Polish: Which One Is Right for Your Vehicle?
When it comes to maintaining the appearance of your vehicle, car owners often debate whether they should opt for a car wash or a car polish. After all, both methods claim to deliver amazing results to keep your vehicle looking its best.
In this blog post, we'll guide you through the differences between a car wash and car polish, discussing the specific benefits that each process offers to your car.
Car Wash – The Basics
A car wash is a process of cleaning your vehicle using water, soap, and various equipment to remove dirt, grime, and other contaminants from the exterior. Car washes can be done by hand, at a self-serve car wash facility, or using a fully automated car wash system.
Benefits of a Car Wash
Maintains Cleanliness
The primary function of a car wash is to remove dirt and debris accumulated on the exterior of your vehicle, making it look clean and well-maintained.
Prevents Damage
Regular car washes can protect paintwork by removing harmful contaminants, such as bird droppings, tree sap, and road salt, which can corrode and damage the paint over time.
Quick and Efficient
Car washes are generally faster and more convenient compared to car polishing, especially if you're using an automated car wash system.
Car Polish – The Basics
Car polish, on the other hand, refers to a detailing process that specifically targets scratches and minor imperfections on the paint surface. Polishing uses a mild abrasive substance to remove a thin layer of your vehicle's clear coat, improving the car's overall appearance by smoothing out the paint and restoring its shine.
Benefits of Car Polishing
Eliminates Scratches and Swirl Marks
Polishing is an effective way to remove minor surface imperfections like scratches, oxidation, and swirl marks that are typically caused by using improper washing techniques or abrasive materials.
Restores Shine
Polishing your car can restore its shine and gloss by rejuvenating the clear coat, delivering a brand new look that lasts.
Prepares Surface for Waxing
Polishing a car's paintwork creates a smooth surface that allows wax or sealant to bond more effectively, which in turn offers better protection and enhances the longevity of your vehicle's finish.
Which One Should You Choose?
Both car washes and car polish play crucial roles in maintaining the appearance and longevity of your vehicle. A car wash should be done regularly – ideally, once every couple of weeks – to keep your car's exterior clean and free from harmful contaminants. Car polishing, on the other hand, can be done less frequently, such as every six months or once a year, depending on your car's paint condition and your preference.
If you're looking to maintain a clean and shiny exterior, consider incorporating both processes into your car care routine. Regular car washes will help prevent the build-up of dirt, while occasional polishing will address minor paint imperfections and restore that coveted showroom shine.
---