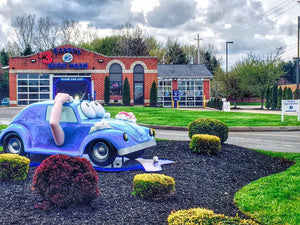 Stopping By The Car Wash? What To Know Before You Go!
As a local Premier Car Wash and Auto Detail Shop across the state of Ohio, we pride ourselves in serving you - our customers and being your one-stop-shop for all of your car care needs. Over the years, we have answered several frequently asked questions for locals and those new to the area alike. Together, our team of professionals compiled a list of things you must know before you stop by for all your car care needs!
What's The Weather? It's often unpredictable, but we don't want you to waste a good wash just to be wiped out by an afternoon rainstorm. Please be sure to check the forecast and plan to swing by for your wash accordingly.
Why Wash? Is there a special occasion, or are you just looking to freshen up and update the look and feel of your ride? We have you covered no matter what the situation or occasion that brings you in to see our team of car care experts.
Interior Or Exterior? Are you looking for the complete car clean, or just a fresh wash on the exterior? Whatever the case, our team has you covered and you will leave as a member of our family in a car that looks and feels shiny and bright.
Automatic Or Self-Serve? If you are a local and loyal fan, you are probably aware that we have been fortunate to expand our services into several locations in recent years. Depending on the type of wash or your car situation, you should ask yourself if you are wanting to do the work yourself and utilize our self-service stations or if you would like us to do the work in an automatic fashion.
---