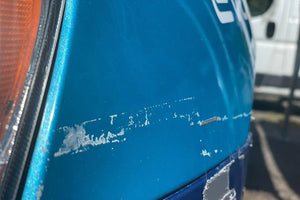 Removing Bumper Sticker Residue from Your Vehicle – A How-to Guide
Bumper stickers are a popular way for people to express their personality or promote their favorite causes. Yet, as time drifts, the need to swap out these old messages for new ones becomes ever more pressing. Not to mention, when it's time to sell your car, you surely wouldn't want them detracting from your vehicle's appeal. Unfortunately, peeling off an old sticker often leaves a sticky residue which can be quite tough to get rid of, but fear not! Here are some simple steps that can help you effectively remove it.
Gather The Right Tools
Before you begin, ensure you have the proper tools in hand. Correct equipment will not only safeguard your bumper's surface from any potential damage but also streamline the process. Here's what you need:
Hair Dryer or Heat Gun: A hairdryer will soften the adhesive without causing damage to the paintwork.
Plastic Scraper or Old Credit Card: Tools made from soft plastic are ideal for scraping off the residue as they won't scratch your car's exterior.
Car Detailing Clay: This substance is excellent for picking up remaining residue while providing the least amount of damage to your paint.
Adhesive Remover: Also known as a sticker residue remover, it is useful to remove stubborn adhesive residue.
Microfiber Cloth: A gentle material that can eliminate the residue without scratching the surface.
Heat Up the Sticker Residue
Once you have all necessary tools in place, kick off the process by warming up the sticker residue with your hairdryer or a heat gun on a low setting. Keep the device about three inches away from the residue and cautiously move it back and forth until it starts to take on a gooey consistency. Heating it up will loosen the adhesive and make it easier to remove.
Scrape Off The Residue Gently
After warming up the sticker residue, use your plastic scraper or an old credit card to gently scrape it off. Be careful not to pry too harshly as you could inadvertently harm your car's paint.
Use An Adhesive Remover
If there's still some residue remaining, you can apply a commercial adhesive remover according to its instructions. You may also opt for WD-40 or rubbing alcohol as substitutes. Spread it over the sticky area and let it settle for a few minutes.
Then, using your plastic scraper, gently work away the remaining residue, reapplying the substance as necessary until the bumper surface is smooth. Remember to avoid excessive scrubbing to prevent any potential paint damage.
Touch Up with Detailing Clay
Once the residue is fully gone, get your piece of car detailing clay, lubricate it according to its instructions, and then carefully glide it over the area. It will pick up any leftover traces and leave your car's surface pristine. Once you're done with the clay, wipe the area dry with a microfiber cloth.
Final Cleanup
Now that the residue is gone, rinse the area with warm water and gently dry it off. You can add some car wax to restore shine to the area, matching it with the rest of your car's surface.
And there you have it - a complete guide on how to remove bumper sticker residue without causing any damage to your car's exterior. Remember, being attentive and using the right tools are the key aspects of this task. Your vehicle will thank you (and so will future you when it comes to resale). Happy cleaning!
---