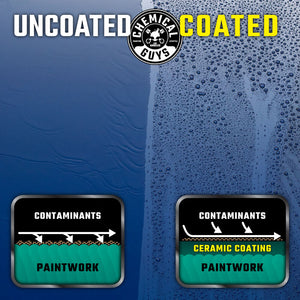 How Ceramic Coating Protects Your Car's Paint: Tutorial on Ceramic Coating.
Welcome back to the Zappy's Blog! In this week's article, we outline and define what ceramic coating is and why it can be beneficial for you and your car! Let's begin with the basics. What exactly is ceramic coating? Our friends at Vive-Houston.com explain what ceramic coating is in its simplest form. "Industry-grade ceramic coating is a chemical polymer solution that is applied to the exterior of a vehicle to protect it from external paint damage. Typically applied by hand, it blends with the paint of your car and creates an additional hydrophobic layer of protection." In even a simpler form, ceramic is a way of protecting your car from excess dust and debris. 
Why ceramic coating? That's a no-brainer, right? One would think. However, ceramic coating is actually more of a technique that is not as popular as we in the automotive industry believe should be. At the end of the day, no one wants gnarly chemical stains or harmful UV rays constantly beating down on a car's exterior. It's thought to be a next level way of cleaning and detailing the exterior paint 
What are the best products out there on the market for ceramic coating? Our friends at Chemical Guys have one of the industry leading ceramic coating products, Hydroslick Intense Gloss SI02 Ceramic Coating Hyperwax. HydroSlick is unlike any product you've ever used before - it's a new product that truly deserves its own category! A HyperWax combines the ease of use of a wax with the longevity, beading, slickness, and insane shine of a ceramic.
Another top of the line product that can assist with a stellar ceramic coating is CMX Ceramic Spray Coating by Mothers. CMX Ceramic Spray Coating is an affordable, user-friendly, ultra-durable, super-hydrophobic protection formula. Just spray on and wipe off, with this game-changing SiO2 (Silicon Dioxide) and TiO2 (Titanium Dioxide) blend. This powerhouse combo provides ultra long-term protection from the elements and relentless water beading, without sacrificing true optical clarity, extreme depth and that signature ceramic glass-like liquid-gloss appearance.
---