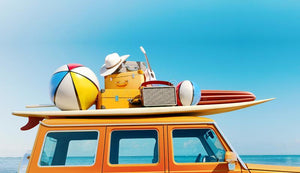 Hot Summer Days, Cool Cars: A blog about taking care of your car and ensuring it gets cleaned up well before your vacation.
The dog days of summer have arrived at our doorstep. Does it seem like we've all been cooped up in our homes and neighborhoods for forever? If so, you aren't alone. In fact, millions of American's are hitting the road and taking off on a summer roadtrip with friends and family in hopes of catching some waves or simply just a breath of fresh air. Chances are, if you have been working from home - your car has been sitting in the driveway. We highly encourage you to be proactive and take these few precautions to make sure you don't end up dealing with mechanical problems when you should be lounging around. 
Our friends at Mobil.com suggest that you check your fluids to start. Depending on your make and model of car, you should check your engine oil, transmission fluid, hoses, belts, and your tire pressure just for starters. If all of those appear to be sharp and in working order, take your car for a drive around town. We aren't just taking to work or to school, take your car out on a longer than typical drive to make sure there are no hiccups in terms of transportation. It's always easier to replace something before it breaks and could leave you in a bind or even worse - stranded. 
In addition to making those checks, we also want to suggest that you pack essentials to have with you in the car in case of emergencies. Some common tools and handy essentials to have packed with you could include: water, snacks, a flashlight, a chain, a hammer, and a traffic cone. We aren't suggesting anything off the wall, and we would like to think that these are all essentials that are always packed and stored away in your car. However, we've seen a thing or two over the years and we just like to continue to remind our loyal customers like you to make sure your summer road trip happens - hiccup free this summer and you get to your destination of choice in a safe and secure manner.
---