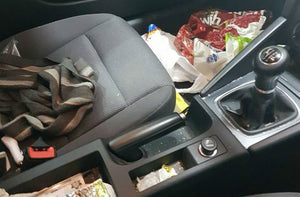 Don't Become A Statistic. Clean Your Car.
For many, we are jumping in and out of our cars on a regular basis and often multiple times throughout a day. How often do you think about all of the germs and bacteria that's growing amongst you when you aren't cleaning your car on a regular basis? Well, it turns out...there are more adults out there who aren't cleaning their cars on a regular basis that we wanted to see. In a recent study released by CarRentals.com, only 32% of people clean their car once a year? 1 in 3 adults. That's unbelievable!
Even if you think your car isn't dirty, it certainly doesn't hurt to clean your car on a regular basis. Even if you think it is clean, it's probably not. Think about the surfaces that you are touching the most when you travel from one spot to another. The steering wheel, the seatbelt, the gear shift are the top three places to make sure to clean and disinfect.
Do us all a favor and don't become a statistic. Stop by our online shop or stop by one of our physical locations so we can help you select the proper product for your fleet of vehicles that are sitting in your garage or driveway.
---