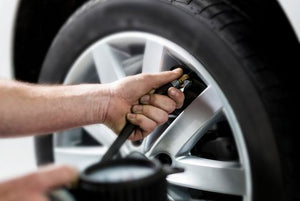 Car Tire Pressure Explained - Why Does it Change in the Cold Weather?
Have you ever tried to pump air in your tires during the cold months of winter? It can be frustrating because they seem to lose that pound or two of pressure overnight, but there's a reason for that. The weather plays a huge part in how much air pressure your tires have after sitting for a few days. So, let's talk about tire pressure and why it changes in the winter with Zappy's Auto Washes.
Cold weather has arrived and so has the drop in air pressure in your tires. So why does this happen? The majority of automobile manufacturers suggest keeping your tires inflated to the recommended pressure shown on the vehicle information placard located on the door jamb of your car.
Most people know that tire pressure affects gas mileage and how well their car handles, but did you know your tires lose 1-2 PSI every month? From the time you buy your tires, they'll slowly lose 1-2psi per month. This decreases fuel economy by 0.3% and affects handling/ride quality. It's caused by cold weather and high pressure combined. When cold weather hits, your car's air pressure should increase to compensate for the colder weather. And we've all seen the low tire pressure warning light, and we're always seeing commercials about keeping our tires properly inflated to avoid safety issues and save money on gas.
---