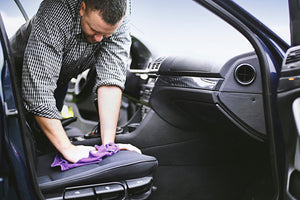 Are You Kicking Off The New Year With Clean Carpeted Surfaces? No? We're Here To Help.
Just as you take care of your car under the engine, it is important that you also take into consideration the cleanliness of the interior of your car. In this week's blog post, we are going to highlight a few tips and tricks you can easily use to clean your carpeted interior. 
Cleaning Carpet Stains can be quite a pain and if you aren't equipped with the right tools, those pesky stains can suddenly turn into headaches that nobody wants to kick off the new year with. 
We recommended Stoner's Upholstery & Carpet Cleaner to our customers that are looking for a quick solution to scrub out those minor stains. Whether you are working with carpeted floor mats or interior cushions, this project will help you rid away the stains. 
In addition to using one of the best products out there on the market, we suggest that you always keep a rag handy in your car. You never know when the next coffee or soda is going to spill and it's imperative that these spills are cleaned up and don't soak into the depths of the carpeted surfaces over an extended period of time. 
Don't just clean your carpeted surfaces once a year. Trust us, the more often you clean - the easier it is.
---